Double Up Food Bucks Mississippi program receives $5 Million from the USDA for Critical Food and Nutrition Security Needs
Double Up Food Bucks Mississippi Fall 2022
Get Double the Fruits & Veggies
Use your EBT card at participating locations across Mississippi to get more fruits and vegetables with Double Up Food Bucks.
What is Double Up?
Double Up helps shoppers participating in the Supplemental Nutrition Assistance Program (SNAP) bring home twice the fresh fruits and veggies.
Double Up also supports local farmers by increasing locally-grown produce sales.

How does it work?
For every $1 you spend on fruits and vegetables with SNAP benefits, you'll get an additional $1 to spend on your next produce purchase, up to $20. This match works differently at participating locations.
Ask your nearest participating grocery store, farmers market or farm stand how the program works at their location.
Double Up Locations
Ready to get started? Download our flyer with a list of locations on page 2. or enter your address in this map to find a participating Double Up farmers market, produce stand, or grocery store near you. Ask how Double Up works at that location before you shop.  Download our flyer in Spanish, with list of locations on page 2.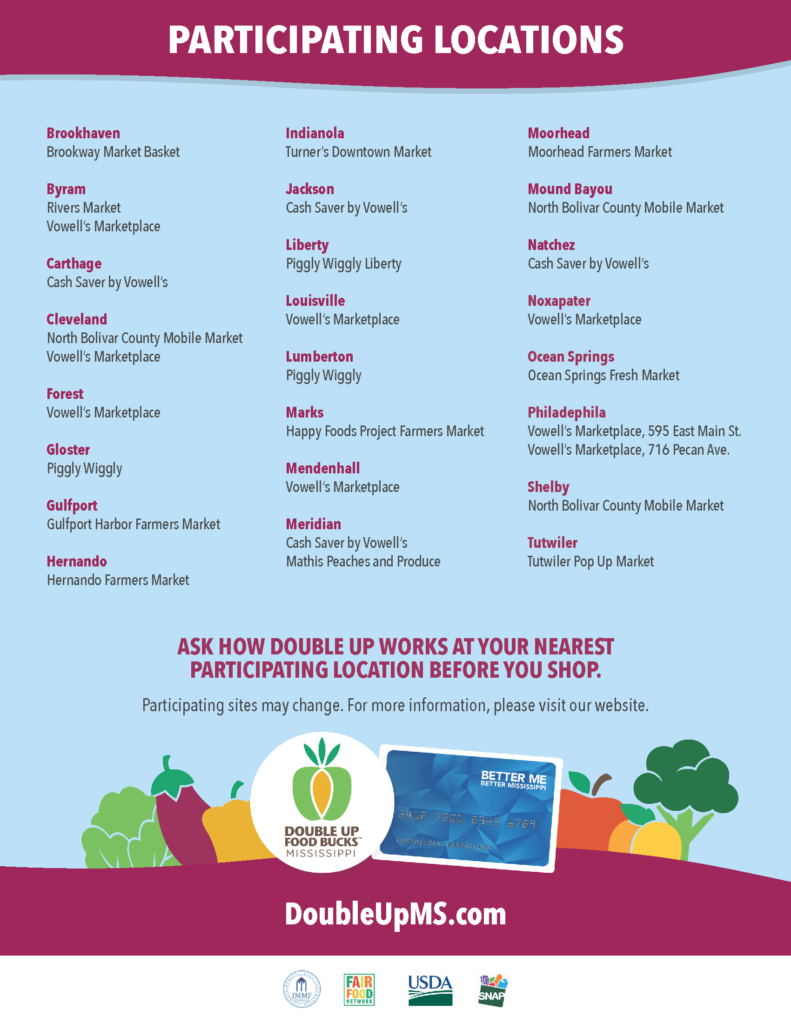 Become a Retail Partner
We are honored to work with farmers, farmers markets, produce stands, and grocery stores across Mississippi, and we are working to expand Double Up across the state. Partnerships are underway in regions spanning from the Mississippi Delta to the Mississippi Gulf Coast.
Are you interested in offering Double Up Food Bucks to your shoppers? Please fill out this retail partner interest form to apply. Retail partners must be certified to accept SNAP and must sell fresh produce (we value locally grown).
Double Up Makes Mississippi Stronger
Watch this video to see how.
Contact Us
We'd love to hear from you.  Please complete the brief contact form if you have questions about Double Up Food Bucks Mississippi.